Hello and welcome to yet another edition of me-posting-tags-since-I-have-no-original ideas-anymore-but-it's-even-worse-because-I-wasn't-even-tagged. I'm sure I would be ashamed if I even felt feelings anymore hahaha. It's okay, EVERYTHING IS FINE.
Thank you Sophie for creating this tag and the beautiful graphics (LOOK AT THEM!). This entire post is basically exposing my basic af music taste but we're still going to do it cause content babyyy.
---
Rules:
Link back to original so she can see your answers and listen to the tunes
For every prompt you choose to do, name 1-5 songs
Have fun and play your music LOUD
---
Home – Gabrielle Aplin // "With every small disaster
I'll let the waters still
Take me away to some place real"
A bit on the nose, I'm aware. Gabrielle Aplin is such a lovely singer and you should definitely listen to her other songs, if you haven't already (example: Waking Up Slow).
This is Home – Cavetown // "Often I am upset that I cannot fall in love but I guess
This avoids the stress of falling out of it"
…Yes, I'm still taking this very literally sue me. I found this song on one of those 3 am deep dives on YouTube and so many feelz.
(my brain almost short-circuited trying to answer this so I'm just going to stick to the 3 I first thought of)
Ours – Taylor Swift // "The stakes are high,
The waters rough,
But this love is ours"
Photograph – Ed Sheeran // "Loving can hurt, loving can hurt sometimes
But it's the only thing that I know"
Tear In My Heart – Twenty One Pilots // "The songs on the radio are okay
But my taste in music is your face"
If true love isn't cursing the government for not using my taxes to fill holes with more cement, I don't even want it.
Don't Start Now – Dua Lipa // "Though it took some time to survive you
I'm better on the other side"
Maniac – Conan Gray // "Cause people like you always want back what they can't have
But I'm past that and you know that"
Dancing on my Own – Robyn // "Somebody said you got a new friend
Does she love you better than I can?" 
Literally don't play any of these songs within 10 ft of me unless you want to see really cringe fortnite dance moves.
Hamilton // "I imagine death so much it feels more like a memory"
It's been so long and my love for this soundtrack has not diminished even the slightest. Also the movie is releasing on Disney+ on JULY 3! Can't wait for it to blows us all away. It's only a matter of time.
She Used To Be Mine – Sara Bareilles // " It's not easy to know
I'm not anything like I used be"
This makes me ugly cry every time I hear it. This one is from Waitress and it's the only song I know from it, is this illegal idk Sara is my Queen. (I really wanted to include Waving Through a Window because I swear Ben Platt is singing directly to my soul but I don't want to give off fake theater nerd vibes, I played a non-speaking tree for 4 years)
Literally and Disney movie to ever exist // "You think the only people who are people
Are the people who look and think like you"
I love the soundtrack of Mulan and Moana and HSM and Tangled and Frozen and…..
(I have zero chill, is this a joke?)
Riptide – Vance Joy // "I was scared of pretty girls and starting conversations"
Flaws – Bastille // "All of your flaws and all of my flaws
Are laid out one by one
Look at the wonderful mess that we made"
Mystery of Love – Sufjan Stevens // "Oh, to see without my eyes
The first time that you kissed me"
Love Story – Taylor Swift // "We were both young when I first saw you"
Fun Fact: I actually met my best friends because of Love Story (Thank you T- Swift, my lord and savior). We somehow discovered we all loved this song and so the next logical conclusion was to obviously sing this glee-style in the middle of class (we were 11, and 9 years later they still my fam (ಥ﹏ಥ) ) (ew, gross I'm going to block their numbers now).
Gotta Catch 'Em All – Pokemon // "Its you and me
I know its my destiny"
I C O N I C. Pokemon was probably 60% of my childhood and I may have too much residual Pokedex knowledge because of it. Do I need to know that a Spoink needs to constantly bounce for it's heart to keep beating? maybe not but I have no regrets. I played Pokemon Sapphire too many times, so before you ask, my favorites are Blaziken (Torchic is my child), Gardevoir (especially when you teach them Thunderbolt) and Eevee (cause I'm basic).
Bet On It – High School Musical 2 // "I don't wanna win this game if I can't play it my way"
THIS SONG IS MY JAM. I always listen to this when I'm stress cramming for finals and it hasn't failed me yet (I'm 99.99% sure the only reason I pass my exams is because of this pre-exam ritual)
Don't Stop me Now – Queen // "I'm burnin' through the sky, yeah
Two hundred degrees
That's why they call me Mister Fahrenheit"
There was a solid month where I only listened to this song and I still didn't get sick of it.
Liability – Lorde // "The truth is I am a toy that people enjoy
'Til all of the tricks don't work anymore"
Youth – Daughter // " Shadows settle on the place, that you left
Our minds are troubled by the emptiness"
All Too Well – Taylor Swift // "You call me up again just to break me like a promise
So casually cruel in the name of being honest"
All I Want – Kodaline // "You brought out the best of me
A part of me I'd never seen"
These are all just a big ouchie. 60% of my Spotify songs are just depressing, am I ok.
(Why is this the hardest tag I've ever done?)
Lourve – Lorde // "We're the greatest, they'll hang us in the Louvre
Down the back, but who cares, still the Louvre"
Lose Yourself – Eminem // "Mom's spaghetti" 
Falling Slowly – Once // " Take this sinking boat and point it home"
Cherry Wine – Hozier // "Her fight and fury is fiery
Oh but she loves
Like sleep to the freezing"
(does this mean songs that are currently on the charts idk that's what I'm assuming)
Everything I Wanted – Billie Eilish // "Everybody wants something from me now
And I don't wanna let 'em down"
I didn't realize this until now but I actually heard every Billie song, I was subconsciously stanning I guess?. Now I don't want to be one of those people but I totally will be, I knew her before Bad Guy got out (do I get points for this?). Some of my favorites are Bored, Come Out and Play, &Burn and Xanny.
Adore You – Harry Styles // " Just let me adore you
Like it's the only thing I'll ever do"
You Belong with me – Taylor Swift // "I think I know where you belong
I think I know it's with me"
Back in 2009, 9 year old me was having a particularly shitty day. I was sick, lying foetal position on the sofa and I think I also had an exam to study for. And my sister played me the YBWM music video to distract me and that's when I first heard of Taylor Swift!! Also, she paused the video before the end and I didn't realize till months later when I saw the kiss scene HA.
What Makes You Beautiful – One Direction // "Baby, you light up my world like nobody else"
Oh god. So me and my friends (the ones I'm totally going to block after writing this post because 9 years of friendship is long enough, adios amigos) were participating in this carnival thing our school organizes for charity and we decided to sing this song. We skipped a lot of classes to badly rehearse and we probably sucked but we sucked together :))). (We sang It's Time by Imagine Dragons the year after that and it was even worse somehow)
The Good Side – Troye Sivan // "The people danced to the sound of your heart
The world sang along to it falling apart"
Ain't Together – King Princess // "We say, "I love you", but we ain't together
Do you think labels make it taste much better?"
Melodrama – Lorde // "I overthink your p-punctuation use
Not my fault, just a thing that my mind do"
Literally who's surprised? Lorde is my ruler. The only way for 2020 to be saved is if she drops an album.
Red – Taylor Swift // "And they tell you that you're lucky
But you're so confused
'Cause you don't feel pretty
You just feel used"
Red was the album that was somehow the soundtrack of my teenage years (despite never being in love or close to it at all). Also wow, both of these albums were huge Grammys snub #JusticeForMelodramaandRed.
This is America – Childish Gambino // "We just wanna party
Party just for you"
Probably the only music video that made me cry (that's a lie I cried for When You're Gone – Avril Lavigne because I get sentimental when I see old people sad). I love the message of the video.
You Belong With Me – Taylor Swift // "But she wears short skirts
I wear T-shirts"
The sheer number of Wattpad stories and fanfics this music video fueled. Just wow.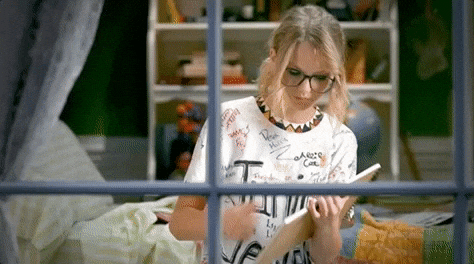 ---
I'm not sure if I'm allowed to tag people in a tag I wasn't tagged in? (or that's what I'll tell myself so I don't have to find people to annoy). Favorite lyrics was so hard for me, please comment yours!